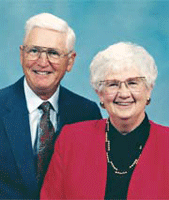 Carol E. Anderson, and her husband, Dennis, have always valued the importance of education and family. Though neither graduated from UND, they have a deep-rooted connection to the University. Carol's ancestors, the Ingwalsons, settled on a farm near Buxton, N.D., in the early 1800s, and several of her relatives attended and graduated from the University. Because of these close ties, a love of North Dakota and as a way to honor her family heritage, Carol and Dennis established The Ingwalson Family Scholarship Endowment to invest in the ongoing growth and development of UND.

A named endowment is a gift to the UND Foundation which is permanently invested to produce annual allocations for projects designated by donors. All named endowments are professionally managed for both growth and income to provide a meaningful annual allocation.

These special accounts are "named" for either the donors themselves, relatives or other special friends. In a simple written agreement with the UND Foundation, donors may specify how annual allocations will be used.

In your personal financial planning, you may gain various tax and income benefits using one or more giving options to establish a named endowment. Just ask one of our development officers for more details.